Your One-Stop Destination For Cloud and Premise Based Unified Communications Solutions.
From conception and consulting, through installation, training, initial and long term ongoing support, we are your partner for keeping your business connected.
Unified Communications System Design, Sales and Installation
Learn More
We offer award winning Unified Communications Solutions from Zultys. Systems that incorportate Voice Calling, Visual Voice Mail, IM and SMS Texting, Video and Audio Conferencing, Web Chat, Screen Sharing, Advanced Call Routing and Queueing. Your staff and your customers are connected – Anytime, Anywhere, Any Device.
Legacy PBX System Sales, Installation & Support
Learn More
Sometimes a Cloud system just isn't the right option for your operation. Premise based PBX systems are available and viable solutions that can still provide Unified  Communication to your team. 
We offer solutions from Panasonic and Zultys.
Accessory and Ancillary Systems
Learn More
Onsite integrated systems including Overhead Paging, Background Music, Door/Entry Connectivity, Call Accounting and Recording Systems are still important. We have plenty of experience making these neccessary integrations wok flawlessly.
Onsite Service and Support
Learn More
Current technologies have revolutionized our ability to provide remote troubleshooting and support for most systems, and we take advantage of this as much as possible. However, too many "service providers" have devolved to providing ONLY remote assistance.
Not us. We still believe that the ability to provide timely onsite service is critical to keeping any system at peak performance and reliability.  When it's necessary, we'll be there.
Communications Technologies Consulting
Learn More
We have been installing and supporting telecommunications systems since 1983. With well over 1000 installed accounts, in applications ranging in need from 1 to 400 users, we have been around the block.
The technologies have evolved over the decades, and so have we.
We are enthusiastically involved with intgrating emerging and proven methods with practical "real world" implementation.
If you could use some guidance, we can help.
Digital Media Marketing Consulting and Support
Learn More
Professional consulting services for online presence management, web page monitoring, search optimization and compliance guidance.
We Create Fully Connected Systems So You Can Focus On Your Business


We recommend Zultys Unified Communications Solutions to seamlessly connect your team to your clients and to each other. Anytime, Anywhere, using voice, video, IM/SMS texting, instant and scheduled conferencing, advanced call center/ACD and screen sharing.
More Info
World class flexibility. Proven performance
KX-NS PBX Systems
The Panasonic KX-NS700/1000 Smart Hybrid PBX is a cost effective legacy and IP communication system for small and medium sized companies that can be flexibly configured and expanded according to your needs.
The KX-NS700/1000 has advanced features and starts from 6 analog trunks and 8 extensions, up to 1000 extensions with expansion Units.
The KX-NS700/1000 is also a unified communication system which has rich IP features such as mobile linking, integrated voice mail and e-mail, instant messaging (chat), and presence information.
It can also use built-in applications, such as a call center solution, mobile solution, and voice mail system, to provide more efficient work and increased customer satisfaction.
Telephone Device Flexibility
Panasonic systems provide unsurpassed flexibilty in supporting analog, digital, IP and SIP telephone devices – in both desktop and cordless options.
Panasonic makes your investment in communications systems hardware more cost effective by strving to maintain backward compatibility of older telephone devices on newer PBX systems.
Legacy Systems
We have been offering Panasonic Telephone Systems since they were first offered in 1986.
We have experience and can offer support on the following legacy products;*
KX-T, KX-TD, KX-TDA, KX-TDE PBX Systems
KX-NCP PBX Systems
KX-TA, KX-TAW PBX Systems
KX-TVA, KX-TVS, KX-TVP Voice Processisng Systems
VB-42XXX, VB-43XXX, VB-44xxx DBS PBX Systems
* parts and/or factory technical support may not be available for all models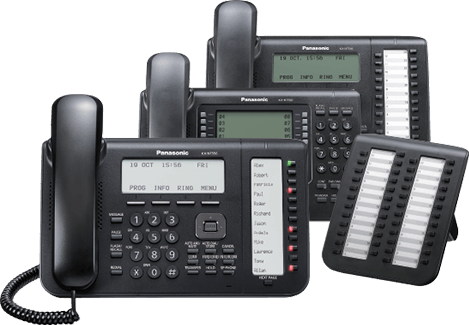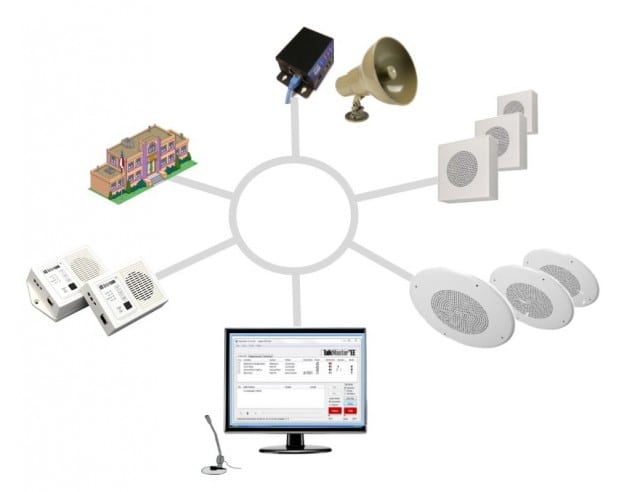 Paging Systems
Overhead Paging and Backgroud Music systems can enhance your workplace's efficiency and provide a calming environment at the same time.
Solutions are available in traditional premise based and newer SIP/IP cloud based systems. Single and multiple zone options available.
A wide variety of speakers are available:  horn, recessed, ceiling, and door options, in one and two way communication versions.
Call Accounting & Call Data Reporting
For systems that don't happen to include these features, we can offer third party SMDR (Station Message Detail Reporting) data collection systems that integrate seamlessly with your telephone system. 
These systems provide a platform for accumulating call activity, and allow customized and detailed reporting. 
Access to CDR reports provides managers with concrete data, from which informed decisions can be made with confidence. 
PO Box 1430
Fairfield CT 06825
Mon-Fri  8:30 to 5:00
Sat & Sun: Closed
Additional Hours By Appointment